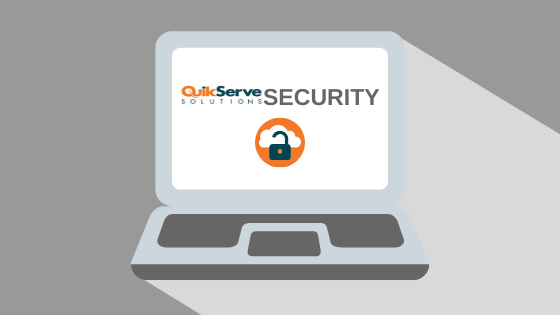 This month in alignment with National Cybersecurity Awareness Month we have discussed ways that you can prevent cyber attacks and threats. But with the advancement of technology, it is critical that every company does its part to protect employee and customer data, which sometimes means calling in the security pros. Partnering with a technology business that values the importance of cybersecurity is crucial to maintaining online safety.
QuikServe offers maximum security to all our partners to simplify the complexities of PCI compliance and protect your network investments. Your customer's data is an asset to your business functions, but it is also an asset to hackers looking for any information they can steal.
The QuikServe security package includes all the important services for ensuring compliance as well as direction on setting up and monitoring of the personal security packages that will safeguard your computers and data from external threats.
7 Benefits to QuikServe Security:
1. QuikServe offers a managed SonicWALL Firewall. In addition, SonicWALL has recently been awarded the U.S. Educational Technology Purchasing Alliance (USETPA) contract for wireless access points, firewalls (network security products) and related security services. QuikServe's managed Unified Threat Firewall includes complete intrusion prevention with real time monitoring, detection and reporting to protect your data.
2. It comes equipped with anti-virus/anti-malware to protect your hardware investments. This feature includes real-time blocking of threats and zero-day attacks.
3. Our Windows update service makes sure that all patches and updates for Microsoft are current on all computers. This means you don't have to worry about maintaining updates which is a critical aspect of cybersecurity.
4. Our CB-Defense Next-generation Antivirus + Endpoint Detection and Response is an industry-leading, cloud-native endpoint platform that makes it possible for us to consolidate security using a single agent console and dataset to stop malware and non-malware attacks.
5. LogMeIn remote access allows you to control and monitor your computers remotely and also includes two-factor authentication for additional security.
6. Our security package also includes PCI Training Materials which includes information on security policy, security best practices, disaster recovery procedures and more.
7. We also provide ongoing support and monitoring services from our Helpdesk which is available 24 hours and day, 7 days a week.
Protection is your best prevention. Contact QuikServe at 402.933.5296 or email us at quikservesolutions@quikserve.com to learn more about our services and how we can provide you with a safe and secure business for the years to come.