With consumers moving at rapid pace, it's critical that your drive thru technology and solutions operate just as quickly. This isn't a groundbreaking discovery but finding the solution for accomplishing this while ensuring accuracy and integration with all in-house systems are in place, can be challenging.
QuikServe understands the challenges you go through, in fact many of us have been where you're at. It's with this experience that we've dedicated our mission to building and offering the tools necessary to help you overcome these challenges. The QuikServe outdoor confirmation boards provide a key solution to driving your drive thru accuracy, increased speed of service while also influencing up-sell conversions. In partnership with Texas Digital, the AccuView outdoor confirmation boards offered by QuikServe integrate with over 95% of POS systems in the market today.  With over 17,000 units installed nationally, these are the clear leaders in the outdoor confirmation board category.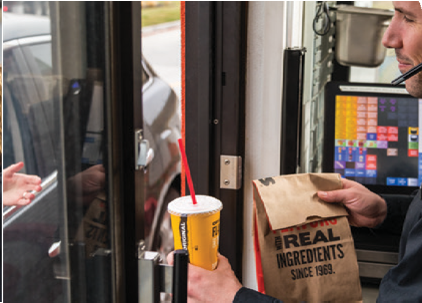 Yet another critical aspect of the drive thru experience comes with selecting the right headsets for employees. We've all experienced those instances where customers are asked to repeat themselves due to noise. This ultimately leads to missed or incorrect orders resulting in lost inventory, sales and dissatisfied customers. The QuikServe Panasonic headset is a crush-proof, spill-resistant, noise-cancelling drive-thru headset that will transform a noisy fast food restaurant into an oasis of calm.
To learn more about our drive-thru solutions in more detail, please contact us at 402.933.5296 or email us at quikservesolutions@quikserve.com